SimDif iOS App Review
2018-08-06 11:28:11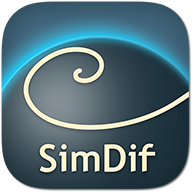 Ease of use
★★★☆☆
Effectiveness
★★★★☆
Chance of Completing
★★★★☆

iPad, iPhone 

Tablets, Phones
Computers
Official website: simple-different.com
In the App Store
Category
: Business
Version we tested
: 1.97 (free)
Compatibility
: iOS 6.0+ iPhone, iPad, iPod touch
The Offer
SimDif gives you any number of free websites using Starter Sites and the only requirement is that you publish your site at least once every 21 days. The Pro Sites upgrade for $59 per year brings some additional features, which we look at below.
FREE
-
Up to 7 Pages
Create Multiple Websites From One Account
EU Cookie Notify & Accept Banner
Social Media Share Buttons
Talk to your Customers with In App Chat
Photo Galleries
Youtube Videos Integration
Google Maps Integration
Flickr Integration
Search Engine Optimisation Settings
Contact Forms
Custom Headers and Footers
PRO
$59/Year
Up to 30 Pages
Create Multiple Websites From One Account
($59/ Year per Pro Site)
EU Cookie Notify & Accept Banner
Social Media Share Buttons
Talk to your Customers with In App Chat
Photo Galleries
Youtube Videos Integration
Google Maps Integration
Flickr Integration
Search Engine Optimisation Settings
Contact Forms
Custom Headers and Footers
Use your own domain name (not included)
Google Analytics Integration
Theme Customizer
Paypal E-Commerce: Sell items or collect donations
Multi-Language Sites: Duplicate your site for translation and get the 1st Pro year for free
Password Protected Pages
Custom Fonts
Professional Feedback on your Published Site
Site Backup and Download
No need to re-publish with Pro Sites
Registration
Creating an account on SimDif is very easy. You just need your email address, a password and a name for your website.
Website Setup
A basic theme is pre-loaded, so the first screen which appears is the editor view with an empty website which you are going to fill with content.
Look & Feel
The SimDif editor view looks exactly as the published website will. You just tap on text areas, page titles, image placeholders etc. to add and edit content. The editor is a bit more challenging to navigate on an iPhone than on an iPad. Depending on your iPhone model you may have to zoom in and out a lot and on smaller screens some of the buttons are difficult to activate because of their small size. The iPad app also offers better visual feedback because the pop-up text editor and other pop-up windows block the view of the content taking shape in the background on smaller iPhones.
Simdif is one of the few apps to allow switching between portrait and landscape modes for editing, which helps especially on the iPhone.
At the top and bottom are 2 toolbars. The top bar houses, on the left, Account Preferences, the Edit/Move/Erase mode selector, the Theme/Header/Footer selector, the site selector (you can create and edit additional website from within one account) and Site Preferences at the top right.
The toolbar at the bottom holds, in the bottom left corner, the Shortcuts menu, for quick access to commonly used modes and tools, help and support, a website preview button, a Publish button, a Refresh button and on the right a help button to access guides. Floating just above the help button is another giving quick access to the chat function.
Although the loading screen provides labels for all the menus and buttons there is a little bit more to learn than with some of the other apps. The learning curve is fast enough, though.
The full website is displayed between these 2 bars, with content organized into blocks.
Building a website with SimDif
To add content first add blocks - block types include text, text with an image, 3 images etc - and then tap on the placeholder text or image placeholders to add text, images, videos or Google maps. Icons overlaid on the website page are very small, so on the iPhone you'll need to zoom in to reach them and then zoom back out to view the whole page.
The default theme is plain grey and white. You can add content with the editor and change the theme at any time without losing or harming any of your content. You can even see an instant preview of your content with different themes in the background of the theme selector. In Pro you can also edit the colours, styles and fonts of all elements of any theme.
The image handling is solid. Just tap an image placeholder, upload an image, or import a Flickr image. Other than crop and rotate there are no other photo editing features, but this is not a major issue as there are a plethora of image editors available in the App store.
The text handling is also very easy, and the page and block titles automatically become h1 and h2 elements to help with SEO. It would be nice if there were more font options for the various text elements in the Starter Sites, but overall the text styling options are pretty good, and include the easy creation of bullet point lists. For Pro Sites, which allow styling of the text in the theme designer, the options are better. The recently added new fonts give plenty of scope for making your site distinctive.
Other features include social media share buttons, contact form complete with spam protection, Google Analytics integration, Paypal and shopping cart features, and password protection for individual pages (the last 3 features are Pro Site only).
Themes and Design
SimDif has a number of pre-designed themes for use in Starter and Pro Sites, and Pro Sites users can create their own themes using the theme designer. Since our review of 3 years ago, SimDif now produces responsive websites which automatically adjust for difference screen sizes. This is a major improvement. The themes still look a little basic when compared to some of those on offer for Jimdo, Strikingly or Weebly, but this is largely to do with the fact that the themes are empty to begin with. If you design your headers, footers, images and other content well, beautiful results are possible.
Once you've added some images and other elements you begin to see the versatility. Small businesses can certainly express both their brand and display their wares.
Themes can be changed easily at any time with no impact on the layout of the text, images, videos etc., that you've added.
You can create custom headers and footers (by using an image editing App or image editing software on a computer) and this can have branding. There are many iOS for this. Background images and custom facivons (the little icon which shows up on the tabs browsers or in bookmarks on mobile browsers) are some of the elements which are not possible.
Languages
SimDif is the strongest app in the languages department. The app itself is available in English, Basque, Czech, Dutch, Finnish, French, German, Indonesian, Italian, Japanese, Korean, Norwegian Bokmål, Polish, Portuguese, Russian, Simplified Chinese, Slovak, Spanish, Swedish, Thai, Traditional Chinese and Vietnamese. SimDif offers multi-language websites by providing easy duplication of entire websites (for Pro Sites) for translation. They also offer the first year of the translated pro site for free.
SimDif is Available For iOS, Android & Computers
SimDif sites display well on all kinds of devices, including on computer browsers, tablets and smartphones and SimDif is still the only genuinely multi-platform app. It is the only website builder which can build websites, with all the available features, from start to finish, on iPad, iPhone and Android apps and on computer browsers. Not only this, but each version works exactly the same as all the others and users can therefore work on their websites from any device using the same interface, and can even work on multiple devices at the same time, with the latest updates being saved. This cross capability adds a huge amount of fun to working with the app.
Conclusions
Ease of use
★★★☆☆
The main editing screen is a live preview of the website and if lost you can always hit "Cancel" and go back there. So, you'll soon feel comfortable working with the app.
The main criticism is that some of the tap and edit elements are too small on the iPhone and require frequent zooming in and out. For the iPad the app deserves 4 stars for ease-of-use, but since many more people will be using it on iPhone 3 stars is probably fairer.
Effectiveness*
★★★★☆
Work on your website on iOS, Anrdoid and computer. The only completely cross-platform app, which also makes a concerted effort to teach you how to create an effective website for your visitors and for search engines.
*Calculated by combining our ratings for Features, Help & Support, Design & SEO
Features
★★★☆☆
SimDif has pretty strong content editing features for many kinds of pages. On the other hand, blog features (called "Journal pages") are quite limited: only reverse chronological order is supported and it's not possible to assign categories to posts.
If you have a paid plan and want to track the performance of your website, you can create a Google Analytics account and use the Google Analytics app for iOS to view traffic statistics right from your iPhone.
If you also plan to edit your website on an Android device or a computer, the features are the same on all platforms.
Guidance, Help & Support
★★★★☆
SimDif has produced comprehensive written guides, not just on how to use their editor, but on best practices for making websites. From within the editor and on their website you can find tips on the kind of language to use on web pages, how to add elements that both website visitors and search engines will find and like, and how to set up and organize the navigation and links of the website. For when you really get stuck SimDif have email support which is easy to find and use.
Just before publishing a SimDif website, there is a link to a guide with tips on how you can make your website more visible on search engines. Many others guides are also available online, the FAQ being the most helpful.
Design
★★★☆☆
SimDif-generated websites can look nice, although there is less variation of theme layout than with some other apps. One issue that has arisen since SimDif made their websites responsive is that when the iPhone is oriented in portrait mode, the published version doesn't look like the preview you have inside the builder, you see the layout of the website that will appear on larger screens.
SEO
★★★★★
SimDif have obviously thought very carefully about how the websites their users create will actually perform, both for website visitors and for search engine results. There's a Tips Book in the Editor, and several in-depth guides on subjects including writing for the web and SEO which can also be accessed from within the App.
Page titles, meta description, keywords and site author information can be added very easily so that you can customize how your website will appear on search engine results pages.
h1 and h2 tags are partially automatic, as page titles and titles added to text in blocks are always enclosed in h1 and h2 tags, but because you can add multiple titles to blocks, you do have some control over the number and location of h2 tags within pages.
SimDif-generated websites load fast.
Chance of completing
★★★★☆
The simplicity of the build with blocks method, the extensive help guides and the clarity of the page and content organization all increase your chances of completing a site with SimDif. A weak spot in my view is that the themes require a good eye for design to get them to look their best, and it's possible some will give up if they don't like how their site is looking half way through.
User Reviews & Comments
We welcome your views and discussion on the apps and on our reviews