SimDif iOS App Review
2019-07-02 16:10:27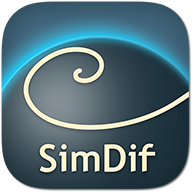 Ease of use
★★★☆☆
Effectiveness
★★★★☆
Chance of Completing
★★★★☆

iPad, iPhone 

Tablets, Phones
Computers
Official website: simple-different.com
In the App Store
Category
: Business
Version we tested
: 2.014 (free)
Compatibility
: iOS 7.0+ iPhone, iPad
The Offer
Using one account, you can create up to 7 free websites which are called Starter sites. The only requirement is to publish your website once a year. The Smart and Pro Site upgrades bring additional features and more control over customization.
FREE
-
Up to 7 Pages
Create Multiple Websites From One Account
EU Cookie Notify & Accept Banner
(AddThis) Social Media Share Buttons
Talk to your Customers with In App Chat
Photo Galleries
YouTube Videos Integration
Google Maps Integration
Optimization Assistant
Simple contact form
Custom Headers and Footers
SMART
Everything included in Free plus:
Up to 12 pages
Enable and moderate your visitor's blog comments
Control the way your site is displayed when shared on social media
In-app hotline for direct contact with the SimDif team
Added color sets and fonts
Activate Google Analytics
PRO
$59/Year
Everything included in Free and Smart plus:
Maximum of 30 pages
Create your own color theme and shapes
Customizable contact form
PayPal e-commerce buttons (sell or donate)
Password protected pages
Site backup and download
Registration
There are two options here, register and start, or try the demo before registering. If you choose the latter you will be presented with a 15 minute demo. You can choose to use this time to test out the app before you register. If you choose to register from the start, all you need is your email address and a password of your choice. After registration, you are asked to choose a basic color set and then the editor loads with an empty website which you can fill with content.
Look & Feel
The SimDif editor view looks the same as the published website, minus the editor tools. You just need to tap on text, page titles, image placeholders, tabs, etc, to add and edit the content.
SimDif is one of the few apps to allow viewing in portrait and landscape modes. Rotate the phone to see the different modes.
There are 2 toolbars at the top and bottom. At the top; Account Preferences, Edit/Move/Erase move modes, Graphic Customization, the site selector, and site settings. The toolbar at the bottom has the Shortcuts menu (for quick access to commonly used modes and tools), a preview website button, a publish button, a refresh button, and on the right is the Communications area (which includes assistance, adviser, comments, and chat). The full website is displayed between these two bars with content organized into blocks.
When loading or refreshing your website the loading screen provides labels for all the menu buttons. It is very straight forward once you know where everything is.
Building a website with SimDif
To build your website first add a page and then add blocks to the page. Blocks can be text, images, text + images, video, map, read more blocks, blog posts, buttons, e-commerce buttons. Once a block is added you tap on the placeholder to edit it or set it up. You can add content with the editor and change the theme at any time without losing or harming any of your content. You can even see an instant preview of your content with different colors or shapes in the background of the graphic customization window. In Pro you can also customize colors, shapes, and fonts to your liking.
The image handling is solid. Just tap on an image placeholder, upload an image, or search for an image with UpSplash. Once an image is selected you can crop, rotate, flip horizontally or vertically, before adding the picture to your page.
The text handling is also very easy, and the page and block titles automatically become h1 or h2 elements to help with SEO. It would be nice if there were more font options for the various text elements in the Starter sites, but overall the text styling options are pretty good. The text editor includes bold, italic, title, bullet and numbered lists, justified text (left, centre, right, and full), and hyperlink.
Other features include social media share buttons, contact form complete with spam protection, Google Analytics integration, PayPal and shopping cart features, and password protection for individual pages.
Themes and Design
SimDif has a number of pre-designed color and shape sets, for use in Starter and Smart sites, and Pro users can create personalized sets from inside the Graphic Customization. SimDif produces responsive websites which automatically adjust for different screen sizes. This is a big plus. The themes still look a little basic when compared to some of those on offer by other website builders, but this is largely to do with the fact that the themes are empty to begin with. If you design your headers, footers, images, and other content well, beautiful results are possible.
Once you've added some images and other elements you begin to see versatility. You can certainly express both your brand, and display your goods.
Graphic customizations can be changed easily at any time with zero impact on the layer of the text, images, videos, etc, that you've added.
You can create custom headers and footers (by using an image editing app, or image editing software on a computer ) and this can have branding. In Smart and Pro you can select a custom favicon (the little shortcut icon)
Languages
SimDif is the strongest app when it comes to languages. The app is available in 11 languages (English, Spanish, French, Italian, German, Portuguese, Dutch, Russian, Thai, Indonesian, Japanese). For Pro Site users, SimDif offers multi-language websites by providing a duplication of your site, which you can then translate or get translated. They currently offer the first 6 months of the duplicated Pro site for free.
SimDif is Available For iOS, Android & Computers
SimDif sites display well on all types of devices, from smart phones, to tablets, and computer browsers. SimDif is still the only app to be fully functional across multiple platforms. It is the only website builder that can build websites, with all the available features, from start to finish, while using a range of devices. Start your website on your Android phone, continue it on your iPad, edit it from your PC, and manage it from your laptop. It makes it really convenient having the option to choose which device you want to work on your website, especially when knowing it will be the same no matter which device you log in from.
Conclusions
Ease of use
★★★☆☆
Simple and easy to use, and if you get stuck the Simple Different support team are there to answer your questions via email.
Effectiveness*
★★★★☆
You can work on SimDif from your phone (iOS or Android), tablets, and computers, all with the same functionality and features. The only completely cross-platform app, which also makes an effort to teach you how to create an optimized website for your visitors and search engines.
*Calculated by combining our ratings for Features, Help & Support, Design & SEO
Features
★★★☆☆
SimDif 2 comes with a new feature called the Optimization Assistant. It is here to help you optimize your site once you hit publish. Think of it as a final check to make sure that your site is ready to be published. Another new feature which will come in handy is the Simple Site Statistics. Here you will find stats on your website's traffic. Contextual tips and guides are also provided (for all sites) which can really help you to understand how and what is needed for a good and optimized site.
Smart and Pro users are given a variety of features that are not available in a free Starter site. There is a feature to link a Google Analytics account to your SimDif site so you can really dig into the data of your site and track performance. Blog comments can be enabled and then moderated when they arrive. You can add buttons for Social Media and PayPal buttons, and also set your own ads. If you are serious about making a website, these features will be very useful.
If you decide that you want to manage your website from another device the features for Starter, Smart, and Pro are the same across all platforms.
Guidance, Help & Support
★★★★☆
SimDif has comprehensive guides on how to use their app and about the best practices for your website and its SEO (Search Engine Optimization). The SimDif support team are kind and supportive so if you need any help just fire them an email.
Design
★★★☆☆
Websites made with SimDif can look nice with the right images and design, though there is less variation in regards to theme layout than with some of the other apps.
SEO
★★★★★
SimDif have thought very carefully about how the sites their users create will perform, both for their visitors and for search engine results. The new Optimization Assistant feature is here to help you, and even though there is currently an option to ignore it, it is advised to follow it. It will give your site even better chance when it comes to SEO and exposure to readers
Chance of completing
★★★★☆
The chances of completing a website with SimDif is increased due to several aspects. The simplicity of the building blocks method, the guides, the way the content is organized, and the support team. All these can help you to get to your goal of completing and publishing your site.
User Reviews & Comments
We welcome your views and discussion on the apps and on our reviews
SimDif for iOS
Average rating:
0 reviews