Weebly Android App Review
2015-03-06 07:48:26
Give Up ‹·····› Get a Result
Some Websites Made with Weebly
(But definitely not using Weebly on Android)
Does it deserve to be reviewed as a website builder? You decide
Weebly's app description in Google Play explains that their app can be used to manage a site, store or blog on the go. They also say you can start a blog or a store. Start something is Weebly's catchphrase, but I'm sure most of Weebly's users will actually want to know how far they can go, and what they can finish. I mean, who would bother to start a car without wheels? The overall offer of Weebly, which applies to Weebly's browser based website builder, is free websites or one of several packages offering more flexibility and features, including being able to use your own domain, removing the Weebly link, more pages, Premium support, and so on. Packages range from just over $4 per month to $25 per month for the Business plan. You will not be able to use many of the features and capabilities of Weebly with the Android app, though, as we'll see below.
Easily create and manage some features of a store or blog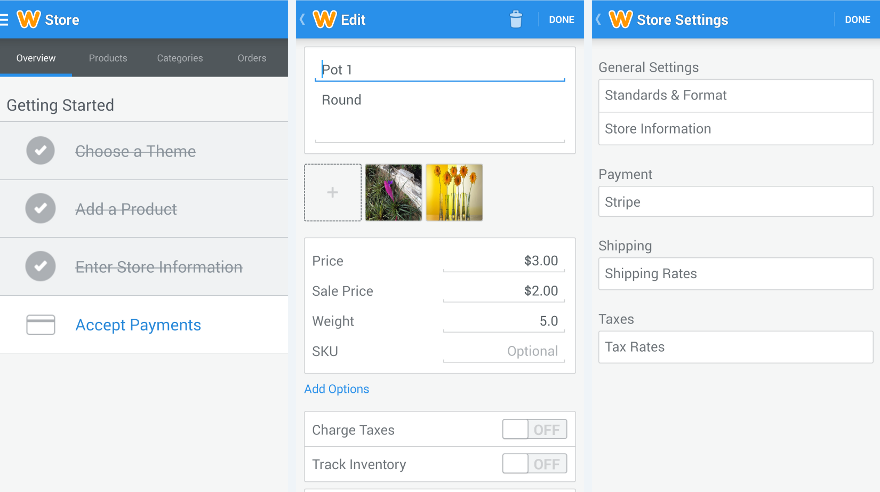 Weebly for Android is nicely designed, as you'd expect from the company who've created an exceptionally well designed browser based website builder. It's quick and easy to use and there is appropriate and nicely introduced guidance to the features. The weakness is compatibility with Weebly desktop, and if you're hoping to manage Weebly from a mobile or tablet, you might also want to consider that Weebly's iPad app has completely different capabilities. The one advantage I noticed that Weebly's Android app has over the apps for iPad and iPhone is that you can use many of the screens in landscape as well as portrait mode.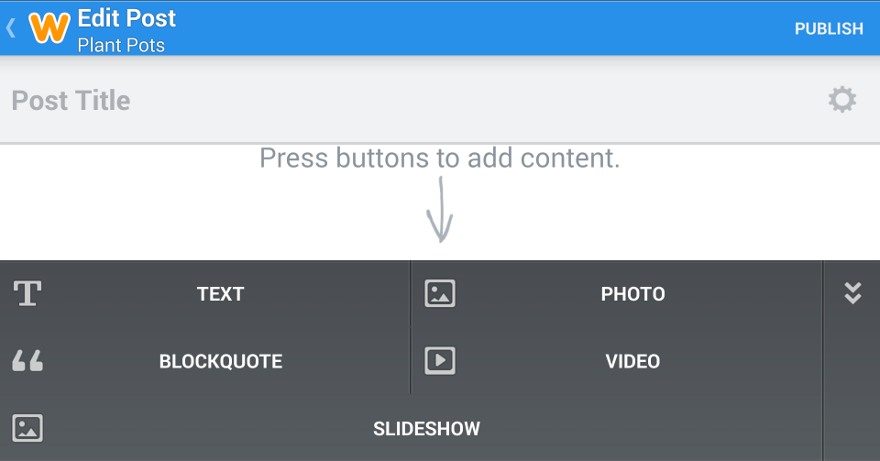 Incompatible with Weebly for desktop
If you want to go completely mobile, Weebly has very little to offer
I tested both methods of starting Weebly for Android; opening a previously created site, and starting a new store/blog. When I imported a previously created site I didn't get far, as that site was neither a blog nor a store, and almost none of it's content was viewable or editable using the app. When I started a new store I was able to add some of the necessary content, but it's not possible to complete what you've started because information like shipping and tax rates have to be set up in Weebly desktop. Weebly for desktop can do pretty much anything. Weebly on iPad can create sites and edit pages but not stores or blog posts. Weebly on Android is the same as Weebly for iPhone, and can create and edit, although not complete, blog posts and product pages. If you want to go completely mobile, Weebly has very little to offer.
Useful articles on website creation but nothing on the Android app
Weebly's support site has many good articles on creating web content. It would be more useful if they were linked to from within the app. There's nothing on the Android app. What could they say?
Email support is accessible very quickly from the app.
An aid to managing an online store or blog.
Weebly for Android is extremely limited as a website builder. It's main function is to allow users to manage their online store and blog a little. Almost none of the features of Weebly for desktop are present. Weebly's app store description states that users can start a blog and create blog posts on the go. This may be true, but without using Weebly for Desktop you cannot edit many of the elements of blog posts, or edit pages, or create or edit a homepage for your site.
Also, a site made only a year ago with Weebly was incompatible with the app. I could import the site, but not edit it or change the theme.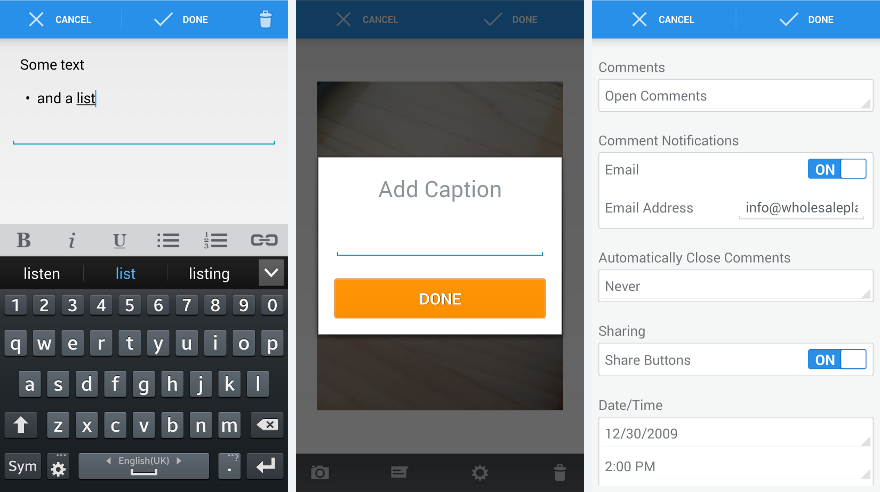 Text editing in the app is straightforward with basic options such as bold, underline, italic and bullet lists. Link creation is also simple. Nothing beyond this.
Images can be uploaded from your Android device, or you can take photos and apply an inbuilt filter. The in-app camera works fine, but the upload of photos from camera roll doesn't either automatically resize or offer any resize of the images, and so uploads whatever the original file size is. This can mean that both upload and page loading is very slow.
In the store area products can be added with prices, product codes and options. Tax control and inventory tracking are features of Business Plan only, and tax and shipping rates have to be set up in Weebly for desktop. Integration with the Stripe payment system is easy. If you already have an account you can just login, if not, you can create one from within the app.
In blog posts you can add text, images, slideshows, videos and quotes. You can also enable visitor comments, set categories for posts, include share buttons and enable auto-post to Twitter and Facebook.
Contacts received via a contact form can be viewed and responded to in-app, but you can't create the contact form in the app, you have to use Weebly desktop.
Site visitor and product order statistics are viewable in-app.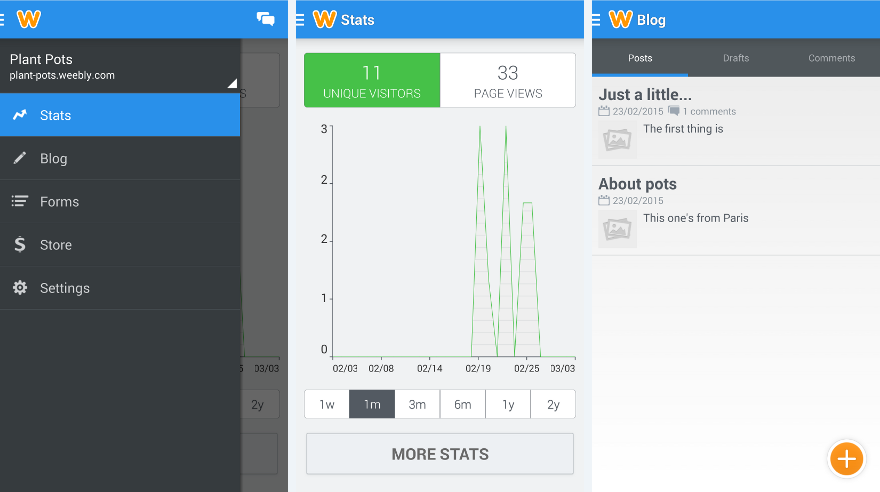 All of the other features of Weebly for desktop, too numerous to list here, are unavailable.
Vastly Improved Themes
The new themes are varied and beautiful. A great improvement.
Weebly was once weak in the design of its themes. The new themes, most of which appear to be available in the Android app, are varied and beautiful. They'll be enough for most, but if you want an even more fantastic theme you can buy and install a premium theme from DivTag. Though, again, not using the app.
Multi language is only possible via the desktop version
It is not possible to create multi-language sites using Weebly for Android. You can only do this using the desktop version.
SEO
Weebly's support site has many good articles and even live training webcasts on SEO and other aspects of website creation. It would be better if this information was linked to from within the app, but most of the information applies only to what you can do with Weebly for desktop, and to a lesser extent Weebly for iPad.
Weebly is available for many devices but works differently on each
On the face of things, Weebly looks to be fully multi-platform. Weebly is available for Desktop, Android tablets and phones, iPad and iPhone. The problem is that each app has a different set of features from all the others, and only the browser based desktop version has all of the features. Weebly websites, at least with the newer themes, look good on all screen sizes.
Conclusions
Weebly for Android is NOT a Website Builder
Giving Weebly a little leeway, they don't explicitly say that the Android app is a complete website builder. But Weebly in general is one, and looking at their users reviews in Google Play, many do expect Weebly to offer them an app with a useful selection of the features of Weebly's browser based builder. This app seem to be useful for only a very few specific purposes. For example, someone who wants to keep a travel blog could use the app to post from around the world. A small business owner could also check on their orders and even add new products to their store on the move. But that's about all I can think of. At Web Builder App Review, we're really only concerned with standalone website builder apps, and this is not a website builder.
User Reviews & Comments
We welcome your views and discussion on the apps and on our reviews
Weebly
Average rating:
1 reviews
Jun 25, 2015
Because I could do the things I needed to do with my iPad Weebly as well as my Desktop version, and it looked very similar when I installed it on an Android KitKat, I foolishly told an Android using friend that we could develop a Weebly website for her on my desktop and she could manage slideshows and add other things right from her Android tablet. I was wrong. It looked like I could. In fact it let us manage pictures in a slide show, delete pictures, and add more. The only problem was it never actually made any changes on the web site. We only found this out after putting in a lot of time and effort in prepping the website and tablet to be ready for the project. So don't just try the software, follow it up with checking on another machine to see if the changes actually happened on the website. Should have been obvious I suppose, but sometimes you get so caught up in the details.....