Universe iOS App Review
2018-08-02 13:02:07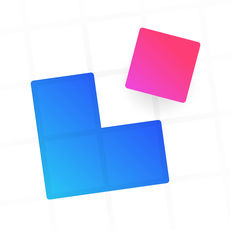 Ease of use
★★★☆☆
Effectiveness
★★☆☆☆
Chance of Completing
★★☆☆☆

iPad, iPhone 
Official website
In the AppStore
Category:
Productivity
Version we tested:
1.22.1 (free)
Compatibility:
iOS 10.0+ iPhone, iPad, iPod touch
The Offer
Universe is a free app and you can build free websites. There is a paid Pro package for $9.99 per month which offers payment blocks and traffic analytics as perhaps the only extras for the moment.
Registration & Website Setup
On first launch Universe asks you what kind of website you want to make : Personal, Business, Creator, Event or other. This helps you make the purpose of your site clear and your answer influences the subsequent forms: title, description, social networks, etc. At the end of the wizard, you select a xxx.onuniverse.com name, pick up a "filter" (theme) and your site is published right away.
Look & Feel
The editor is a 3-column table (expandable up to 5-columns), and you place blocks of contents in 1 or more cells in this grid. To resize a block, make a pinch/zoom gesture (placing 2 fingers in the same cell may be tricky if you have big fingers... but, yes, you can definitely do it!). To move a block, tap and drag. As you go, you build your home page as a vertical roll, like a Japanese kakemono.
Content that you can add (by swiping from right to left through block types) includes:
• Photos from your device (with image filters) or Giphy.com (animated gifs).
• Video from your device (2s duration limit), YouTube or Vimeo.
• Text: font, shadow, size, color, alignment and background colors and shapes can be adjusted.
• Social media icons: linked to your own social media pages.
• SMS, phone or email icons, to let people get in touch with you directly (there is no contact form).
• Google maps, with nice color filters.
• Music: from SoundCloud
• Colored dots: with various shapes, colors and color gradients.
• Code blocks: HTML, CSS and JavaScript.
• Payment blocks: *in Pro only.
Text, picture, video and colored dot blocks can be linked to another page of your website or to any other website.
If you have an eye for design you'll enjoy the flexibility of the layout possibilities, putting content of different sizes freely on the left-hand side, in the middle or on the right. It's really fun!
Other pages are also created using the grid, as with the home page. You can also add simple blog posts (picture & text).
Building a website with Universe
Universe is quite disruptive of traditional website builder methods. For example:
1. It assumes that horizontal swiping is understood by all. In the app, when you feel you are at a dead-end or that a feature is missing, there's a good chance that you're just a swipe away from the solution. You'll learn this by trial and error.
2. The "grid approach" is unique among website builder apps. If you've worked with desktop publishing applications, you will probably like Universe. The graphic design possibilities are appealing and Universe is the only app I know of with which you could make a poster-like website.
3. Universe claims in the app store that websites made by the app are responsive, but I saw no evidence of this. And oddly many websites created by Universe look good on either a very large phone screen or a tablet but not on a regular phone screens or on computers. You could design a site with the app that would look fine on a phone, or fine on a computer, by choosing a column layout to fit either one, but it wouldn't fit both. There also seems to be some bug-i-ness in the way a scroll bar appears to the right the some of the blocks, as though the content doesn't fit.
A contact form is one of the more noticeable features missing from the app.
A Website Made with Universe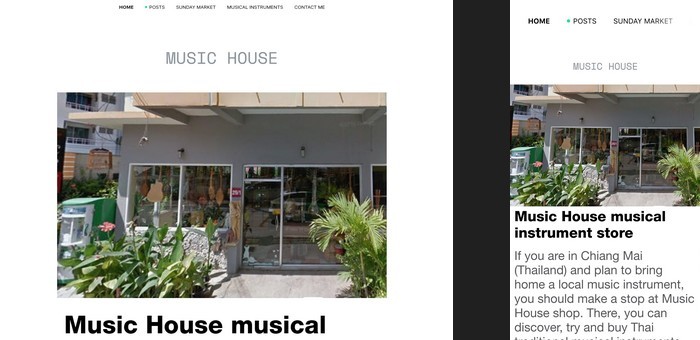 Languages
The app is available only in English but I did find some multi-lingual sites made with Universe. They would have to have been manually made, however, as there are no specific tools for easily creating multi-language sites.
Conclusions
Ease of use
★★★☆☆
Universe is well designed and works smoothly. It requires some uncommon finger gestures though: horizontal swiping, and pinching out items that are not pictures. As some of the gestures have low discoverability, it's quite hard to learn how to use this app.
Effectiveness*
★★☆☆☆
One to watch for the future, because it is great at what it does and many of its users clearly love the unique and colorful creations it can help them make. However, many of the important things websites need to do, like be seen on search engines, be responsive on computer and mobile screens and serve customers of a business, can't be achieved.
*Calculated by combining our ratings for Features, Help & Support, Design & SEO
Features
★★★☆☆
Page layout is very flexible and is great for visual design. Each block can have its own background. Google Map themes and image filters are other fairly unique features among website builders for iOS. On the other hand, it lacks a contact form (this may be possible with code blocks, but it will be beyond many users comfort zone), as well as text underscoring (a common visual marker for links). The Pro package provides a few more features, like traffic analytics and online payment blocks.
Guidance, Help & Support
★★☆☆☆
Universe provides very little guidance on how to create an effective website, but there is a useful knowledge base on their website which has a set of guides on how to use the app.
Design
★★★☆☆
Universe can produce some stunning results, but because they often don't fit either a phone or a computer perfectly (I didn't find any sites that had been made with Universe which were actually responsive) a huge part of modern website design is missing.
If you can imagine each page of your website as a poster, then Universe will definitely help you make it real. But if you primarily think in terms of ideas and sub-topics that each page should develop, you will face some of the following dilemmas: Should I create a block for the main topic and another block for each sub-topic? Where are bullet and numbered lists? How to make this word bold? Why can't the blocks adjust their size automatically when I add some text to them? How to indent this paragraph?
Frankly, Universe focuses so much on visual design that, if you need to draft and organize your ideas, you'd be better off using a note-taking app or pen and paper first, and only copy your content into Universe when it's all decided.
SEO
☆☆☆☆☆
Universe websites load very fast, but the text and other content on the page cannot be analyzed by search engines properly and it's not possible to set metadata for each page. Basically Universe websites are invisible to Google. This is compensated for a little by stronger social media functions. Websites made with Universe have some social media meta-tags, but unless you have a good social media presence and viral content, you won't be found.
Chance to complete
★★☆☆☆
If design is all you care about, or if you only need a photo portfolio a business card, an About.me type page, you might well complete something with Universe. For any other purpose, especially for a business, you'd better look for another app.
User Reviews & Comments
We welcome your views and discussion on the apps and on our reviews
Universe for iOS
Average rating:
0 reviews