Website Builder for Android Review
2015-02-27 06:32:35

Give Up ‹·····› Get a Result
Some Websites Made with SimDif
Create a free website on an Android phone or tablet
Website Builder for Android (which on the web is called SimpleDifferent and on iOS SimDif) offers users free websites with Starter Sites, and a Pro Sites upgrade for $39.99 per year brings some additional features, which we look at below. The only obligation for Starter Site users is that you publish your site at least once every 21 days.
An original approach to easy website building

One of the few apps to allow switching between portrait and landscape mode for editing, which can help with work-flow.
The WYSIWYG (what you see is what you get) editor is the easiest kind of editor for newcomers to website design to adjust to because of the context and visual feedback you get whilst you're creating. The Website Builder for Android editor view looks exactly as the published website will, you just tap on text areas, page titles, image placeholders and so on to add and edit content. It does take some time to work out how to use all the features and I found I needed to zoom in and out a lot, especially on smaller android devices. Some of the buttons are difficult to activate because of their small size, and some of the visual feedback you get on larger screens disappears on smaller screens because the pop-up text editor and other windows block the view of the content taking shape in the background.
Some problems with image and text editing
I came across a few bugs in the text-editor, for example while trying to select and align text, it would only work if there were no bullet list elements. Also the option to add a numbered list was missing. This missing numbered lists option isn't important on its own but it does give a compatibility problem with SimpleDifferent's iOS apps and desktop version. The image cropper also has a problem. Unlike in other versions of SimDif, in Website Builder for Android the aspect ratio control isn't working properly. Sometimes it's not possible to deselect the fixed aspect ratio, and at other times the selection behaves arbitrarily and is not completely flexible.
Support
SimpleDifferent has produced comprehensive written guides, not just on how to use their editor, but on best practices for making websites. Uniquely among all the apps we've reviewed, with Website Builder for Android you can view help files in-app. There are tips on the kind of language to use on web pages, how to add elements that both website visitors and search engines will find and like, and how to set up and organize the navigation and links of your website.
If you find a problem the guides can't help you solve, Simple Different offers email support from within the app.
Free and paid Pro Sites with a wealth of easy to use options
Free Starter Sites allow up to 7 pages, with page types including Standard pages, Gallery, a Contact form, Links and Journal. The "blocks" that are used to build up the pages are one of the nicest and easiest to use of Website Builder for Android's features. They allow effortless and varied creation of well laid out web pages.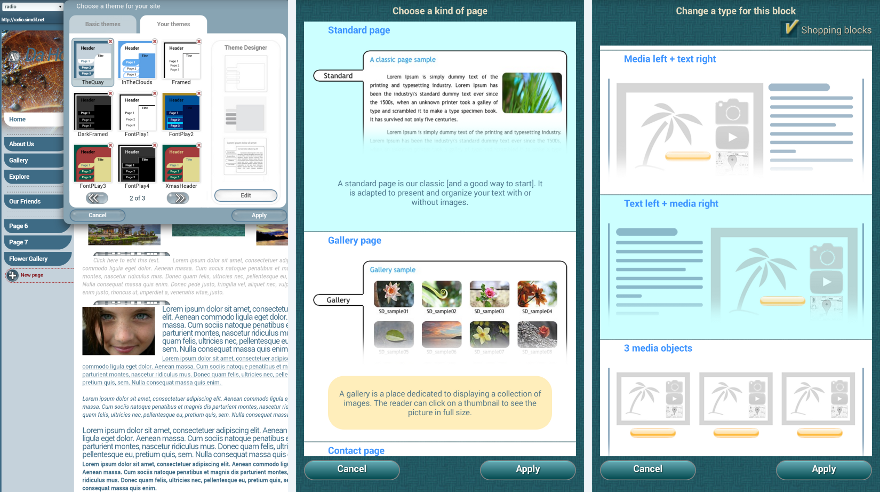 The "blocks" that are used to build up pages are one of the nicest and easiest to use of Website Builder for Android's features.
Every element of a page is tap and edit including the page title, text areas, media placeholders and menu tab titles. Navigation menus are always on the left, but there are a variety of styling options either using different themes or, in Pro Sites, you can create your own themes and edit background colors, borders, fonts and text styling independently of your choice of theme.
The image handling offers crop and rotate and, as mentioned above, there are some problems to iron out here. There are no other photo editing features but there are many image editors for Android available in the various App stores if you need to do more.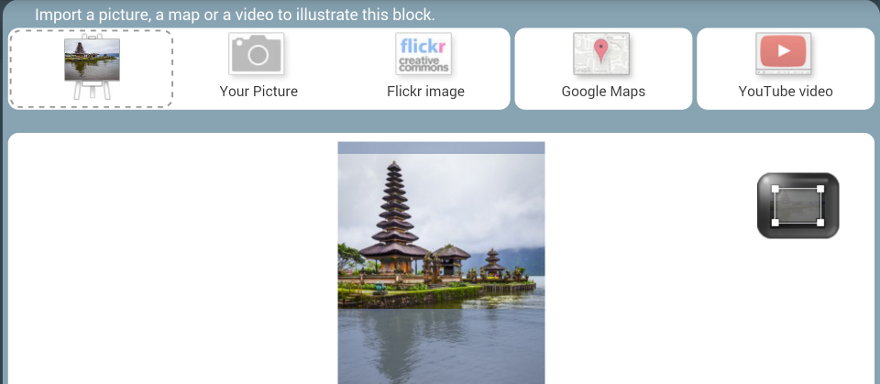 Youtube Videos, images from Flickr, and Google maps are as easy to add as photos.
Text editing is easy, apart from some issues with aligning text and lists. The styling options are fairly good and include the easy creation of bullet point lists, something that I didn't find in other apps. SimDif has made the page titles and block titles into h1 and h2 elements to help with SEO. Font options in Starter sites are basic, but in Pro sites you can style the various text elements with a great selection of fonts.
The contact form is the only example of an actual fillable contact form, complete with spam protection, that I could find among the website builder apps.
Other features include social media share buttons, Google Analytics integration, Paypal and shopping cart features, and password protection for individual pages (the last 3 features are Pro Site only).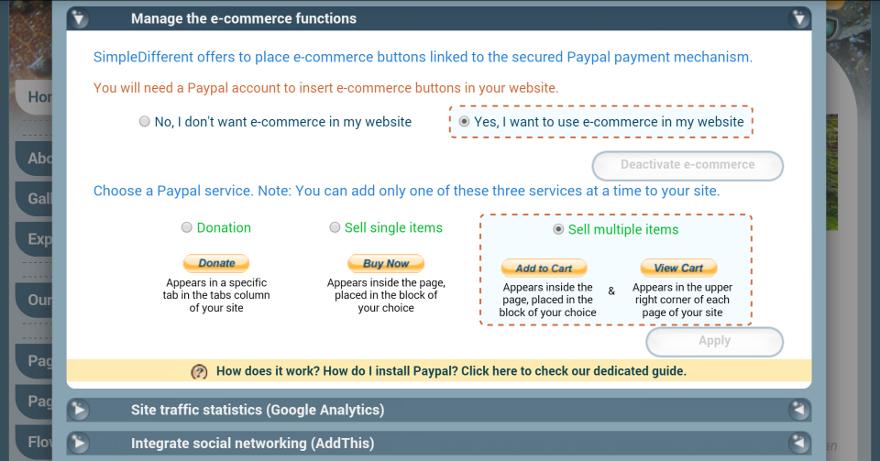 Plenty of themes to choose from but all with navigation on the left
Website Builder for Android has several pre-designed themes for use in Starter and Pro Sites, and Pro Sites users can create their own themes using the theme designer. Perhaps partly because of the left side only menu, and the fixed width nature of the elements of the themes, many themes don't look particularly varied or distinctive at first.
Over 60 pre-designed themes and the ThemeDesigner in Pro Sites let's you create your own
Once you've added some images and other elements the themes can look effective, and small businesses and professionals will find just enough flexibility to create distinctive sites. Visual artists perhaps won't be satisfied by the fixed width formatting, but there are still far greater possibilities than for the other Android website builders we looked at.
Themes can be changed easily at any time and with no impact on the layout of the text, images, videos etc., that you've added.
You can create custom headers and footers (by using an image editing App or image editing software on a computer) and this can have branding. For anyone used to image editing this will be very easy and there are several apps available for Android that can do it. A logo separate from the header background image and favicons (the little icon which shows up on the tabs of computer based internet browsers) are some of the elements which are not possible.
Create multi-language sites with ease
Website Builder for Android makes this option very easy by offering duplication of entire websites (in Pro Sites) for translation, with the first year of the translated Pro site hosted for free.
SEO
Simple Different has clearly thought very carefully about how the websites their users create will actually perform, both for website visitors and for search engine results. They have included tips in the editor's Tips Book, and have devoted many pages in their in-depth guides to the subject of site promotion, and the guides can be accessed by tapping on a button within the App.
Page titles, meta description, keywords and site author information can be added very easily, and in a completely non-technical way.
h1 and h2 tags are partially automatic, as page titles and titles added to text in blocks are always enclosed in h1 and h2 tags, but because you can add multiple titles to blocks, you do have some control over the number and location of h2 tags within pages.
Sites look and work well on all devices
Simple Different sites are not responsive, but they display very well on all kinds of devices, including on computer browsers, Android tablets and phone, and iOS devices.
The only genuinely multi-platform app
Work on your website on Android tablet or phone, iPhone, iPad... and desktop. The only completely cross-platform. Outstanding.
Here Website Builder for Android truly shines. Simple Different have created the only website builder, to my knowledge, which can build websites from start to finish on Android tablets and phones, on iPhone and iPad, and on computer browsers. Not only this, but each version works exactly the same as all the others, and users can therefore work on their websites from any device using the same interface, and can even work on multiple devices at the same time, with the latest updates being saved. This capability can add a huge amount of fun to working with the app.
Conclusions
Website Builder for Android is not as mature an app as Simple Different's iPad and iPhone apps, but other than a few bugs with the text editor and image cropper, it works and looks exactly the same. That's important as it makes Website Builder for Android the only site builder which you can use on any device with the same set of features. With the competition on Android weaker than on iOS, it's the clear winner. The WYSIWYG usability of the app and the in-app guidance on website content creation are real strengths, as the majority of users will have very little experience of web design or content writing. It will really increase the chances that you'll finish the site you've started, and is not always true of other apps because of the discrepancy between what you see in the editor and what you see on a published site, or else because of the limited possibilities of some of the apps, or the difference in features of the versions for Android and for desktop.
Website Builder for Android is the only site builder which you can use on any device with the same set of features.
A weak spot in Website Builder for Android, in my view, is that the themes require a good eye for design to get them to look their best. Some beautiful sites have been created using the app, though, which proves that it's possible.
Website Builder for Android provides a very easy method for complete beginners to make a website. Overall, the combination of ease of use and the consistency of it's capabilities for creating websites on Android, iPhone, iPad and desktop are unmatched.
User Reviews & Comments
We welcome your views and discussion on the apps and on our reviews