Review of SimDif 2
2019-07-02 17:33:47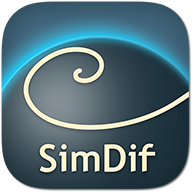 Give Up ‹·····› Get a Result
Some Websites Made with SimDif
Create a free website on an Android phone or tablet
SimDif 2 or Website Builder for Android has three versions available, Starter (Free) Smart, and Pro. The only requirement to keep a free Starter site is that you must publish it at least once a year. The paid options Smart and Pro are available at a reasonable price and comes with added features and functionality. They also offer monthly subscriptions now.
An original approach to easy website building
One of the few apps that allows you to switch between portrait and landscape mode to view how your site will look on phones, and computers.
The app is very easy to use and has been designed to be helpful for a newcomer with a WYSIWYG (what you see is what you get) approach. Due to the context, It is easy to get accustomed to and there is graphical feedback when tapping different buttons, tabs, block elements, etc. Just tap on text areas, image placeholders, add a new page, or add a new block and add in your content.
I found that many improvements have been made in the development and release of SimDif 2, including better image handling, and more text editor options with the addition of the numbered list.
Support
Another new feature of SimDif 2 is the Adviser guides, within the communications area. Here users will receive tips and website theory to help them build their website and understand what makes a good website. Among all the apps we have reviewed, SimDif 2 is the only one that allows you to view the guides inside the app. There are tips on the type of language that should be used inside websites, how to add elements that visitors and search engines will find and like, and how to organize navigation and links on your website.
If you encounter a problem that the guides cannot help to resolve, Simple Different has a strong email support team that can be contacted from inside the application. They will resolve your issue as soon as they can.
Free and paid Pro Sites with a lot of easy to use options
A free Starter site allows up to 7 pages, with empty pages, galleries, home page, blog pages, where to find us, topic page, and a contact form. "Blocks" are used to create elements in the pages and this is one of the best functions of SimDif 2, they facilitate effortless creation of well-designed pages.
Most elements of a page can be tapped on and edited, including the page title, text areas, image, video, and other placeholders, and tabs (the menu).
The "blocks" that are used to build up pages are one of the nicest and easiest to use of Website Builder for Android's features.
The menu is always on the left but there is a variety of styling options that can be used to change the shape and color of the tabs. In the pro version, you have finer customization control, giving you more control over the aesthetics of your site, including text styling, colors, shapes, and headers and footers.
The image handling gives you crop, rotate, flip horizontally and flip vertically. There are no other image editing features but there are many image editor apps you can download for Android if you need to do more editing on your images.
The text styling options are good and include numbered lists and bullet point lists which can be created quickly and easily. SimDif has turned page and block titles into h1 and h2 elements to help with SEO. Font options in Starter Sites are basic but in Pro, you have a lot more to customize and choose from.
Among all the website builder apps, the contact form is the only example of a real, complete, refillable contact form with anti-spam protection.
Other features include social media share buttons, and in Pro, PayPal e-commerce features, Google Analytics integration, and password protection for individual pages.
SimDif 2 has several pre-design color sets, for use in Starter and Smart sites, Pro sites can customize their own with editing features. Due to the tabs being on the left, and the fixed width, many color sets don't stand out at first, but with tweaks and good image design, it can look good. Once you have added other elements like video or images, maps, and contact forms, etc, the site starts to take shape.
Small businesses and professionals will find enough flexibility to create distinctive sites although visual or graphic artists perhaps won't be satisfied with the fixed formatting. That being said, it helps you to focus on the content of your site and designing the elements or blocks in a way that looks aesthetically pleasing.
Color sets and shapes can be changed at any time without having an impact on the layout of the text, images, videos, etc, that you have added.
Custom headers and footers can be created by using an image editing app, or software on a computer, and this can include branding.
Create multi-language sites with ease
SimDif 2 allows you to duplicate your Pro Site for translation, with the first 6 months of the duplicated Pro Site for free.
SEO
SimDif is designed to respect SEO and therefore Simple Different have thought very carefully about the performance of websites created by their users, for the visitors of the site, and for search engines.
Titles of pages, meta-tags, keywords, and information about the author of the site, can be added very easily. h1 and h2 tags are set automatically, as page and block titles.
Sites look and work well on all devices
Sites display very well on all kinds of devices including iOS and Android phones and tablets, and computers.
The only genuinely multi-platform app
This is where SimDif shines. To my knowledge, Simple Different has created the only website builder that is fully functional on all of the major platforms. The app works exactly the same on each platform and building a website from start to finish has the same workflow and functionality. Thanks to this, users can choose to switch between devices at their convenience. For example, build you website from your phone on the train, or from your computer at home. This capability adds a huge amount of fun to work with the app.
Work on your website on Android tablet or phone, iPhone, iPad... and desktop. The only completely cross-platform. Outstanding.
Conclusions
The WYSIWYG design and usability of the app, as well as the in-app Advisor on content creation and SEO, are real strengths here. Especially when the majority of users will have very little experience in web design or content writing. All of this will increase the chances of completing a website with this app. This is not always the same on other apps because what you publish is different from what you see in the editor. Another plus is that the features are the same across all platforms meaning you can easily switch and choose between all your devices whenever you see fit.
SimDif 2 is the only site builder which you can use on any device with the same set of features.
A weak spot for SimDif 2 is that the aesthetics require a good eye for design to make them look their best. Some beautiful sites have been created using the app though, which confirms that it is possible.
SimDif provides a very easy way for beginners to complete a website. Overall, the combination of ease of use, cross compatibility, as well as the consistency between platforms, means that for creating websites on Android, iOS, and computers, are unmatched.
User Reviews & Comments
We welcome your views and discussion on the apps and on our reviews
Website Builder for Android
Average rating:
0 reviews