Jimdo Android App Review
2015-03-06 07:47:33
Give Up ‹·····› Get a Result
Some Websites Made with Jimdo
Free app and websites or Pro packages from $90 a year
Jimdo's Android app is free and lets you create a free website on a Jimdo sub-domain, which will always be free. You can also buy one of two packages which offer extras such as your own unique domain, additional widgets (when using Jimdo for dekstop), online store options and other features.
User friendly but limited to only a few of Jimdo for desktop's features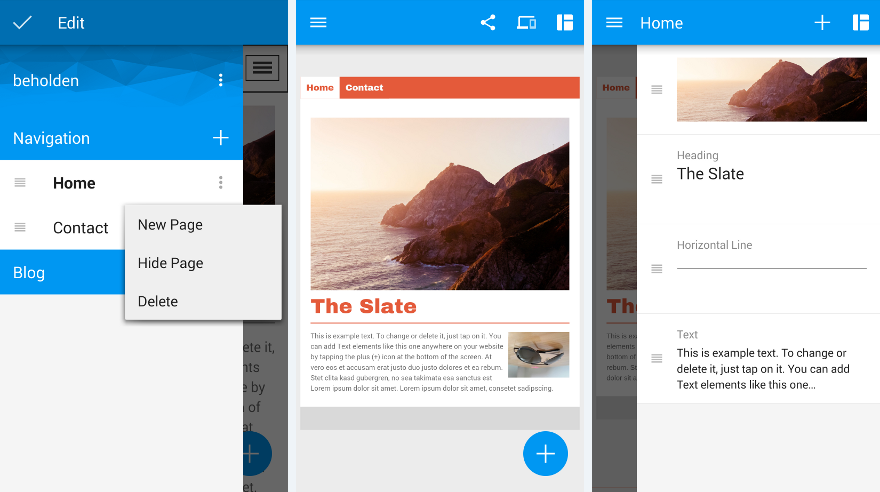 Jimdo for Android is very similar to Jimdo's iOS apps in terms of design of the app and the features offered. It's basically WYSIWYG (what you see is what you get) and is quite fast. The app offers a very limited selection of the features that are available in Jimdo's browser based website builder. However, the Android app is more user friendly than the iOS apps for a couple of reasons. Unlike in the iOS apps only a few themes are offered, but the chosen themes are consistent with the capabilities of the app. Also, the app can be used in both portrait and landscape mode for many, but not all, tasks.
The app works but many Jimdo desktop features are unavailable
What Jimdo for Android can do it does well. What it can't do is significant.
What Jimdo's Android app can do it does well. However, what it can't do compared with Jimdo for desktop browsers is a lot. The main thing is that the import of existing sites is limited by the fact that Jimdo for Android can only edit some parts of them. Some themes have sidebars and multiple columns, whereas the app can only edit vertically, in one column. Jimdo own up to the discrepancies on their website and say they are working on adding features.
Good support articles on website creation
Jimdo's support site has helpful advice on all aspects of website creation and promotion. There's not much about the app itself, except for a description of which Jimdo functions the app can perform. From within the app there is quick access to email support.
Capable of building simple websites but missing the features of Jimdo desktop
Jimdo's app makes use of left and right swipe-in menus, and also of a bottom right set menu, plus a small menu at the top. The overall result is that the app feels uncluttered, with no one menu having too many functions. Pages and blog posts can be created and ordered in the left menu, and in-page content can be created either from the right side menu, or from the toolbar at the bottom right.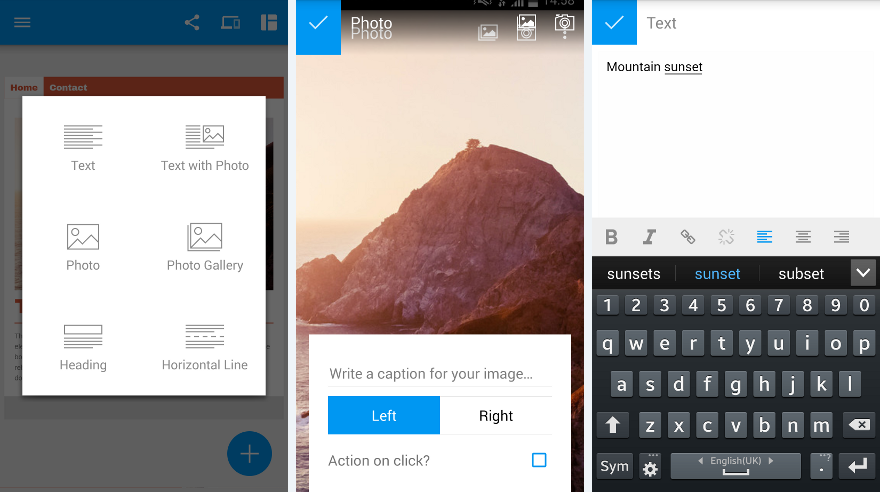 The content capabilities vary between packages, from 500Mb of storage for JimdoFree up to unlimited for JimdoBusiness. I created 30 pages before I tired of testing the practical limits of 500Mb. Jimdo has been around for quite some time as a desktop browser based website builder, and is rated quite highly by many reviewers on that platform. I haven't thoroughly tested Jimdo for desktop but it's capabilities seem quite strong. The Android app, whilst nicely designed, offers only a very few of these features. Some types of content cannot be created from within the app, and other types of content, which have been created in Jimdo desktop, cannot be edited.
What you can do with Jimdo for Android
You can create pages and blog posts and populate them with headings, images, text blocks and photo galleries. You can re-order and edit any of the content you create from within the app. Photos are automatically resized on upload. Text editing is basic, offering some basic alignment and text bold or italicising options. Layout options are limited to one column.
What you cannot do with Jimdo for Android
You can't create product pages or edit your existing products. You can't add any of the dozens of widgets (except the basic ones mentioned above), such as Youtube videos, contact forms, the disqus comment system, social media share buttons, calendars, flickr, Soundcloud etc. You can't access many of the basic layout elements of many of the themes available In the desktop browser version. I could go on, but I'll leave it there for now before making some conclusions below.
A choice of 5 mobile optimized themes
Jimdo's theme selector in Android is very simple, offering a choice of just 5 one column templates, and without the palette selector that is in the iOS apps. Given what I said about the hopeless integration of Jimdo's themes with the iOS apps this a good thing. The problem of importing websites into the Android app which have been created in either Jimdo for desktop or one of the iOS apps is unsolved. If you do have an existing Jimdo site and import it you will only be able to edit some of the content. Most Jimdo themes have content organized both horizontally and vertically, whereas the app can only edit vertically, in one column. Even for the themes which only have one column, there are many elements, such as the logo, custom backgrounds and choice of fonts which can only be edited from desktop browser version.
Multi language sites are possible with Jimdo, but not from the Android app
To create and edit a multi-language site you need to use a computer.
SEO is nicely explained but you'll need to use Jimdo desktop
Jimdo have done a good job of explaining SEO and how to create content that will work for people and for the search engines, but very little can be done in Jimdo's Android app. You will need to use Jimdo for computers to edit your meta tags and to use the social media sharing functions. If you have a Pro or Business account, you can view your website's visitor statistics from within the app.
A good explanation of SEO and how to create content, but only some of it can actually be done in Jimdo's Android app.
Available for many devices but not a multi-platform website builder
Jimdo is now available for Desktop, for iPhone and iPad, and for Android devices. The Android and iOS apps offer very similar capabilities, but both offer very few of the features found in Jimdo for desktop. Jimdo websites using newer themes adapt to mobile and desktop screens very well.
Conclusions
A nicely designed app for using some of Jimdo's features
Jimdo for Android is certainly better than Jimdo for iOS. You could use it to build a very basic website from start to finish. If there were no such thing as Jimdo Desktop, then this review might conclude by saying that Jimdo's Android app is nicely designed and easy to use but limited.
Given that there is Jimdo for desktop, it's more complicated. If you've already created a website using Jimdo and would like to be able to edit any of it on the go, you'll be disappointed. Almost all of the themes in Jimdo Desktop have elements and widgets that will be uneditable in the Android app. Even some of the very basic elements, like blocks of text and photos, will be uneditable, if they're in a multi-column theme. The Android app can only create and edit one column of content. And only the most basic widgets are included. If, on the other hand, you start with the app and want to create a more complete or purposeful website you'll have to go to the desktop almost from the very beginning. Only in Jimdo desktop can you upload a logo, or a background image, or change the font size, or edit your meta tags, or add facebook and twitter sharing buttons.
Jimdo need to integrate more of their features into the app for me to believe that they're doing more than creating a marketing tool to drive people to their desktop website builder. If you like Jimdo, stick to it's desktop version. To create or maintain a website for a business or other professional purpose is beyond this app.
User Reviews & Comments
We welcome your views and discussion on the apps and on our reviews
Jimdo
Average rating:
0 reviews